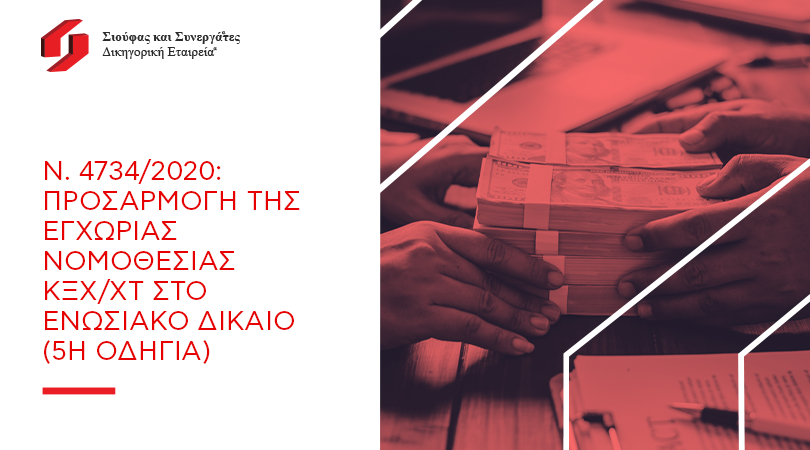 Ν. 4734/2020: ΠΡΟΣΑΡΜΟΓΗ ΤΗΣ ΕΓΧΩΡΙΑΣ ΝΟΜΟΘΕΣΙΑΣ ΚΞΧ/ΧΤ ΣΤΟ ΕΝΩΣΙΑΚΟ ΔΙΚΑΙΟ (5η ΟΔΗΓΙΑ)
Legislation on the prevention and suppression of money laundering and terrorist financing (CSR / XT) has been amended in recent years, due to the rapidly evolving nature of the threats posed by both prevention and suppression systems. at national and EU level, in order to require the continuous review of methods and standards and the strengthening of the synergies of the stakeholders in order to effectively deal with the risks.
In this context, the current regime of Law 4557/2018, which incorporated in the Greek legal order Directive (EU) 2015/849 of the European Parliament and of the Council of 20 May 2015 (4or Οδηγία), τροποποιήθηκε πρόσφατα με τον νόμο 4734/2020.
The new law, which enters into force on 8-10-2020, adapts domestic legislation to Directive (EU) 2018/843 of the European Parliament and of the Council of 30 May 2018 (5or Οδηγία), στο προοίμιο της οποίας εκτίθενται οι εξελίξεις και παράμετροι που υπαγόρευσαν την εισαγωγή της. Οι κύριοι άξονες της τροποποίησης/ συμπλήρωσης συνίστανται:
to broaden the scope of obligated entities to occupy virtual currency and documentary currency exchange service providers, as well as digital wallet custodian service providers.
harmonizing the implementation of enhanced customer due diligence for third countries designated by the European Commission as high-risk countries.
the reduction of the thresholds, under which the liable persons are exempted from the application of certain due diligence measures on prepaid cards.
ensuring improved access to accurate and up-to-date information about the beneficial owner, as well as transparency regarding the structure of legal persons and entities.
enhancing the transparency of the financial transactions of corporations and other legal entities, with a view to improving the existing precautionary framework and tackling XX / XT more effectively, and
strengthening the framework for the exchange of information between the competent authorities of the Member States.