4th Annual NPL Greece 2023, by SmithNovak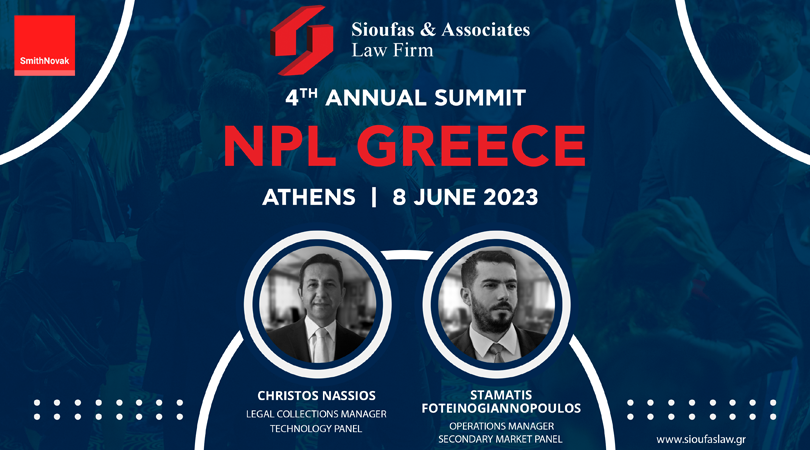 We are delighted to announce that we are sponsoring the 4th Annual NPL Greece 2023 by Smith Novak, taking place in Grand Hyatt Athens Hotel on June 8th. Christos Nassios, our Legal Collections Manager, will moderate the panel on Technology and discuss, along with Antonios Bayias, Advisor to the board, Relational, GR, Nikos Patsiogiannis, Co-founder & COO, Prosperty Solutions, GR, Panos Tsoumpas, CTO, Cepal, GR and Titos Skourtsis, Business Development & Sales Director , QUALCO, GR and Julia Elmaloglou, Head of major accounts, Archeiothiki, how technology serves the Greek NPL transactions and the pros and cons of technology adoption.
Stamatis Foteinogiannopoulos, our Operations Manager, will appear as a speaker on the Secondary Market panel, moderated by Nikos Fragos, Partner, Banking & Finance, Karatzas & Partners, GR, along with Ioannis Sakarelis, Business Development Manager Greece/Cyprus, Debitos, GR, Paul Tzelepis, Head of Business Development, Copernicus Hellas, Copernicus, GR, Panagiotis Gkioumes, Director – Financial Services, Grant Thornton, GR, focusing on how actively the secondary market performs in Greece, as well as the opportunities for servicers in the Greek secondary market.
We look forward to seeing you all there!
Σιούφας & Συνεργάτες | Γιώργος Σιούφας | Μάριος Σιούφας
For More Info
Contact the secretariat of the Legal Services Directorate at telephone: 213 017 5600, or send an email to info@sioufaslaw.gr and we will contact you immediately.